Product Details
High pressure flat membrane experimental equipment (TYLG-19)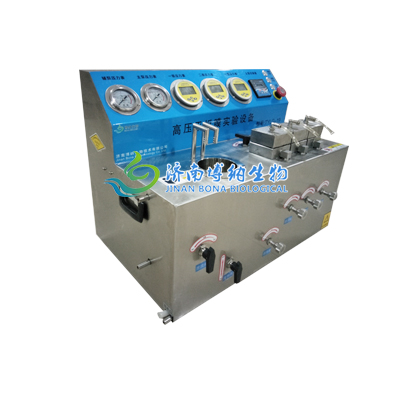 Device parameters:
Equipment model: TYLG-19 (can be customized)
Number of membrane modules: 3 groups (4.5 cm in diameter)
Diaphragm specifications: 45mm (3 pieces)
Equipment specifications: 820 (length) × 480 (width) × 540 (height)
Net weight of equipment: 58kg
Equipped with power supply: 220V 50Hz total power>0.88KW
Allowable maximum operating temperature range: 5-55 ° C
Maximum operating PH range allowed: 2-12 (depending on diaphragm)
Allow maximum safety pressure: 40Bar
Basic configuration: feed pump 1 (Q ≤ 1.7L / MP ≤ 1.3MPa N ≤ 40W), feed pump 2 (Q ≤ 1L / MP ≤ 4.0MPa N ≤ 800W), three 4.5cm membrane tank, pressure regulating valve , pressure gauge, 1L material tank, ring card joint, electrical instrument, pipeline rack, control system 1 frequency conversion control system, control system 2 overpressure automatic protection system
Note: All stainless steel welding is automatically filled with argon protection, single-sided welding, double-sided molding. The inner and outer surfaces of the pipe are of good quality. Simple operation, clean and hygienic, safe and reliable.